What To Look Out For In Braces Treatment Contracts
In this edition of Friday Focus, Dr. O El-Hillal from iSmiles Orthodontics, your Irvine Orthodontist, discusses some of the sneaky tricks orthodontists can use to hide fees in braces treatment contracts.
"Only $99 DOWN to start treatment" sounds like a great deal, but be warned that lower costs up front do not always equate to lower costs for total treatment. In this example, you may be signing up for an open-ended contract that can cost you big time in the end.
Always ask the question, "What is the ultimate goal of your treatment costs?"
If you're set up to pay $99 a month for a plan that costs $4000, that works out to 40 months of treatments. Do you want to be in a prolonged contract, where the orthodontic office is compelled to set up additional monthly appointments to get that $99 payment.
It is a sneaky trick any patient could fall for if they don't ask the right questions up front.
Then there's the "You ran over your treatment time" scenario, which translates into "We need to charge you more money."
Here, an orthodontist might give you a 2-year treatment timeline to produce that perfect smile. If the results take more than 2 years – for any reason – you can be charged for every additional month it takes until your treatment is finished.
To add insult to injury, you could be told the reason you've surpassed your estimated treatment timeline is "your lack of cooperation". You may have missed a few appointments, thinking it's not a problem, and then all of a sudden you're hit with unexpected costs at the end of your treatment plan.
Orthodontic treatment contracts take many different forms. Sometimes a contract is set up by "length of treatment" as a way to break costs down. You may be charged for 12 months of treatment vs. 18 months of treatment, or something like 24 or 36 months.
With all of the new advances in treatment technologies, I think this model is thankfully fading away. Today, you're paying for results vs. the length of treatment.
iSmiles Orthodontics is results driven and our contracts are set up that way. If your treatment plan should take 24 months to achieve and we can't deliver that perfect smile in 30 months, there is no additional charge. Our patients always know, up front, what their treatment plan is going to cost – with no hidden fees.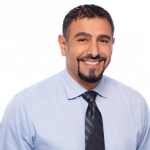 Ousama El-Hillal
, referred to as Dr. O by patients, staff and friends, is an Orthodontist and co-owner of iSmiles Orthodontics. iSmiles Orthododontics is leading provider of the Damon System and Invisalign in Irvine.