Why Does The Cost Of Braces Differ From Practice to Practice?
In this edition of Friday Focus, Dr. O from iSmiles Orthodontics, your Irvine Orthodontist, provides an overview of orthodontic fees and discusses why the cost of braces varies from practice to practice.
Many or our patients are surprised that the cost of braces can vary so dramatically from practice to practice, because they assume the treatment plan they are presented and the results should be similar.
While I hate to use this analogy, comparing orthodontic treatment plan fees is similar to a shopping experience, because different offices, different practices and different doctors are going to utilize different systems to address orthodontic needs.
So why are treatment fees higher or lower from one orthopedic practice to another?
In some cases it's an easy conversation – in that one practices accepts certain insurances while another does not – which explains the difference in treatment fees.
Or a patient is searching for a low-end orthopedic office for braces at the deepest discount. In the end, what they're getting is the difference between a Dollar Store or Walmart versus Macy's, Dillard's or Nordstrom.
There's a scale – a range of treatments – in which orthodontic practices can offer to achieve specific goals. It's really up to you to examine and compare the different treatment plans. And even though fees are a big thing, you should match the experience that you have in the office to the type of service or treatment you're going to get.
We always recommend, when it comes to making important heath care decisions, that your pocketbook not make that decision. You need to be aware that, from office to office, there will be a difference in fees for the aforementioned reasons.
Think of it this way. If you are looking for really solid orthodontic service, there's a difference between just getting your teeth straightened versus actually getting your bite corrected and your teeth straightened.
There are complexities that I see in the dental profession, where you want to have your front teeth straightened and other issues arise in terms of bite and function. There's a gamut of reasons why fees vary. Rather than focusing on the cost, focus on the doctor and what his experience can offer.
In the end, your decision should be based on the answers to really good questions. In future videos I will give you the important questions to ask at your orthodontic consultation.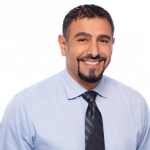 Ousama El-Hillal
, referred to as Dr. O by patients, staff and friends, is an Orthodontist and co-owner of iSmiles Orthodontics. iSmiles Orthododontics is leading provider of the Damon System and Invisalign in Irvine.