Braces Treatment Contracts Explained Part 1
In this edition of the Friday Focus, Dr. O from iSmiles Orthodontics discusses braces treatment contracts, including what to look out for and how they are developed.
iSmiles Orthodontics always welcomes potential patients who set up an appointment for a second or third opinion of a recommended treatment plan. With a copy of a Braces Treatment Contract from another orthodontic practice in hand, they always have a lot of questions – and almost always want to make comparisons.
So, what costs are included in an orthodontic contract? Though there are many ways a contract can be structured, iSmiles Orthodontics prefers the "lump sum" approach because it's transparent and clearly outlines what is and is not included, from the day treatment is initiated to the finish when the desired results are achieved.
The contract includes two components that make up the treatment plan:
The active phase is usually 12 to 24 months. During this time, your teeth are moving and you are visiting our office for appointments.
The passive phase, is the 12 to 24 months of observation and retention. This happens after you have completed your treatment. You will wear your retainers during this phase.
The contract includes all of the treatments, services and products that actually go into your iSmiles Orthodontics care plan – including diagnostic records, the cost of braces and appliances, all office visits, and retainers.
iSmiles contracts will outline what's covered and not covered in the lump sum. These include missed appointments, an extension of treatment time, unpredictable growth, broken braces, and lost or broken appliances.
Feel free to call (949) 385-6814 if you have any questions about iSmiles Orthodontics lump sum contracts for braces. If you or a loved one is in need of orthodontic treatment, contact us today to schedule a free consultation (a $500 value).
iSmiles Orthodontics, a leading provider of Invisalign® clear aligner systems in Irvine, California, will soon introduce DAMON™SMILE clear braces in lieu of typical metal braces. Whether you are 7 or 70, if you're looking for a Wide Beautiful Smile iSmiles Orthodontics can help you.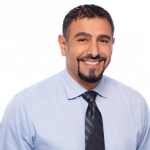 Ousama El-Hillal
, referred to as Dr. O by patients, staff and friends, is an Orthodontist and co-owner of iSmiles Orthodontics. iSmiles Orthododontics is leading provider of the Damon System and Invisalign in Irvine.