Does your child need braces?
Braces In Irvine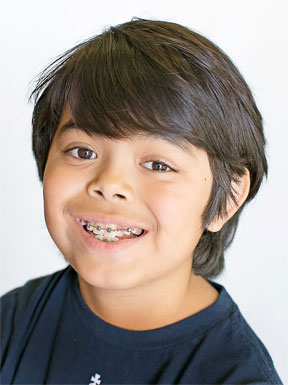 Does your child need braces?
You're probably familiar with the adage "an ounce of prevention is worth a pound of cure". For many children that's precisely what orthodontics offers. Early detection and prevention are one of the best ways to prevent the loss of permanent teeth due to overcrowding and extraction.
The American Dental Association recommends every child should have their first orthodontic exam as early as age 7 and before age 9. The baby teeth are in, the adult teeth are descending, giving a certified orthodontist a detailed snapshot of what's happening (and what will happen) in your child's mouth.
iSmiles Orthodontics offers complimentary consultation – every six months – for children between the ages of 7 and 9.
We will evaluate your child's teeth and bite for any potential misalignment issues, such as an overbite or underbite. Our orthodontist will recommend treatment if any problems are found. Depending on your child's unique case, we will either begin treatment right away or wait until all of their baby teeth have fallen out.
Sometimes treatment should start as soon as possible. In other cases, it means waiting until most or all of the baby teeth have fallen out. The goal is to professionally evaluate oral development at critical growth stages and determine whether early intervention is recommended.
Early diagnosis and treatment by iSmiles Orthodontics can help guide growth and tooth eruption, even prevent more serious problems from developing later on. The goal, always, is to reduce treatment time in full braces and provide the best – and most stable – results possible.
Let iSmiles Orthodontics help you give your child the best possible start, by setting up your complimentary consultation.
We don't want finances to stop you from caring for your child's oral health. We provide complimentary consultations to give you peace of mind and to provide you with an understanding of your child's orthodontic needs.