Can You Eat Popsicles While Wearing Braces?
Welcome to Friday Focus with Doctor "O"! The orthodontic related question of the week is "Can you eat popsicles with braces?" Yes, you can! While it makes sense that hard foods can crack your teeth, break brackets, erode enamel, and weaken the overall structure of teeth, this isn't the case with popsicles because they aren't as hard as other snack options. You just need to use common sense when eating popsicles, not just biting down hard on them immediately. Instead, suck on them or give them time to thaw out a little before biting into them. If you chomp down on a hard popsicle you can end up braking your braces. Cold treats like popsicles and ice cream can actually help relieve soreness as well and reduce inflammation. So, enjoy your favorite popsicles – just keep the tips listed above in mind.
Avoiding Tooth Decay with Braces
Because your teeth are especially vulnerable to tooth delay when undergoing orthodontic treatment, it's important to enjoy sugary treats (including popsicles) and drinks in moderation because it's harder to brush and floss your teeth with braces. This means that during the home dental hygiene care, you can end up missing areas that are coated in sugar, which leads to decay. Also, a lot of sugary treats, including sodas, are loaded with artificial colors that stain teeth. This adds an additional challenge because stains can end up hidden and settle in, causing deeper discoloration.
You can help avoid tooth decay and staining by brushing and flossing after every meal (at or away from home). While braces make cleaning harder, it's important to invest the time to thoroughly clean your teeth, thereby protecting the investment you made to have a beautiful smile. There are several special dental tools that can help ensure a thorough cleaning, including Interdental and electric toothbrushes (choose soft bristles).
If you'd like more tips and advice regarding orthodontic care, be sure to visit our iSmiles Orthodontics YouTube channel (be sure to subscribe to receive notices of new Friday Focus posts), check out our blog or just give us a call ((949) 385-6814). We're here to help.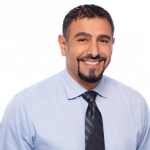 Ousama El-Hillal
, referred to as Dr. O by patients, staff and friends, is an Orthodontist and co-owner of iSmiles Orthodontics. iSmiles Orthododontics is leading provider of the Damon System and Invisalign in Irvine.