Can You Eat Pretzels While Wearing Braces?
When you have braces, there are certain types of food that can damage your wires and brackets, which can prolong your treatment. This is why it's so important to stick to the dietary guidelines the orthodontist in Irvine gives you. You will need to avoid foods that are hard, sticky, or chewy. Pretzels are usually considered a hard food that should be avoided, but that isn't necessarily the case. There are certain versions that you can eat with braces.
Pretzels You Can Have
There are several different types of pretzels filling the grocery shelves these days, including versions you can eat. Basically, you just have to avoid eating hard, thick pretzels that can break your brackets. Instead, choose thin pretzels, such as tiny twists, pretzel sticks, and soft pretzels.
New Braces Friendly Food Options
It's easy to find tasty and nutritious options that are braces-friendly. New products are continuously hitting the market, including extra thin pretzels. These new snack innovations allow you to satisfy your craving without damaging your brackets and wires. Here are a couple of snack ideas to try.
Create Your Own Snack Mix
Combine snack items like Goldfish crackers, thin pretzel twists, a low sugar cereal like Cheerios, or any other braces-friendly bites you can think of – this makes a great on the go snack.
Hummus Plus . . .
Hummus pairs well with a lot of things, including thin pretzels, soft pita bread sections, or soft vegetables like red pepper strips and zucchini that are also easy to bite and chew. With a little creativity, preparation and the willingness to make a few adjustments to your diet, it's easy to eat well with braces. The best rule of thumb is to eat bite size pieces, chew carefully and brush after every meal. Feel free to contact us to find out more about Orthodontic food guidelines. If you're looking for an orthodontist, give iSmiles Orthodontics a call today to schedule a complimentary consultation.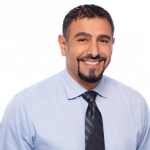 Ousama El-Hillal
, referred to as Dr. O by patients, staff and friends, is an Orthodontist and co-owner of iSmiles Orthodontics. iSmiles Orthododontics is leading provider of the Damon System and Invisalign in Irvine.