Can You Kiss While Wearing Lingual Braces?
Kissing While Wearing Lingual Braces
Twenty to thirty years ago, braces were a lot more cumbersome, made up of bigger brackets, thicker wires, and lots of rough edges. A lot has changed over the last few years, thanks to advancements in orthodontic treatments, including the development of lingual braces. The good news is that, if you're worried about being able to kiss, this won't be a problem while wearing lingual braces – a benefit your parent's generation didn't have.
What are Lingual Braces?
A type of "invisible" orthodontic treatment, lingual braces look like conventional braces, however, they're mounted on the backside of your teeth. The benefits of lingual braces include you'll achieve the same results when it comes to the alignment of your teeth that you would with non-lingual braces. Lingual braces are the ideal option for anyone with overcrowding problems, gaps between their teeth or to treat an improper bite. Another advantage is that nobody will know you're wearing braces (even if you're kissing them) because they can't see them, unless you tip your head up or down.
Kissing While Wearing Lingual Braces
Nervous about kissing with lingual braces? There's no reason to stress out because whoever you're kissing won't even know you have them on. This is an important benefit, whether it's going to be your first kiss or you're sharing an intimate experience with a loved one. Let's face it – nobody wants to feel apprehensive during a kiss.
Having a great smile is worth the temporary inconvenience of braces. Fortunately, with lingual braces you can enjoy worry free kissing and who doesn't enjoy a kiss?
Have any additional questions about lingual braces? Contact Orthodontist in Irvine today. We're here to answer your questions and help make your life easier while wearing braces.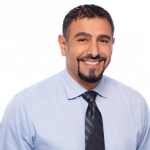 Ousama El-Hillal
, referred to as Dr. O by patients, staff and friends, is an Orthodontist and co-owner of iSmiles Orthodontics. iSmiles Orthododontics is leading provider of the Damon System and Invisalign in Irvine.