What Color Braces Should You Choose?
If you or your child will need to wear braces for the next few years, why not have some fun with them? The days of clunky metallic braces are long gone. Now, braces can look stylish and help you feel more confident. Why not keep your braces experience interesting with different color choices and combinations?
So, what color braces should you choose?
As orthodontic related technologies have evolved, the variety of color options for braces have grown. Patients can choose from just about any color of the rainbow and more to stand out from the crowd. Recently, we ran a quick survey of orthodontic patients and found the most popular color proved to be pink. Now, this was just a survey of our patients. When you look at more extensive surveys you'll generally find that the most popular colors are red, blue, green, yellow, purple, pink and orange. All brands that manufacture color braces have a color palette that they provide to orthodontists. Something you should know is that the colors that are represented on the color selector will look lighter when they're on your actual braces.
Food for thought
Choosing color braces really comes down to your own personal tastes. Some people would rather go with a more discreet look. Others are more adventurous, choosing their favorite colors, the colors of their preferred sports team, school colors, colors that match their favorite clothing and accessories hues, or choose a color that complements their eye or skin tone. Things to consider are that pink, green, orange and dark blue typically looks better with darker skin tones. Lighter skin ones work well with subdued ones or pink or red and light blue. Another thing to keep in mind is that darker colors tend to make teeth appear whiter and lighter colors can make the teeth look a bit yellow. Whichever color you choose, you have the option to switch them at your next appointment if you're not happy with your choice.
Bottom line, when it comes to braces, there's no hard-set rule on which color to choose. At iSmile Orthodontics, we encourage our patients to choose a color that fits their particular style. If you're not sure about how a color will look on your teeth, ask your orthodontist for recommendations which will also be based on the natural color of your enamel. If you haven't chosen an orthodontist yet, call iSmiles Orthodontics, your Irvine Orthodontist today to schedule your first visit. We'll make your orthodontic experiences pleasant and pain-free, from the moment you walk into our office and through every visit.
Please take a minute to let us know in the comment section of this video which color you prefer.
See you next week!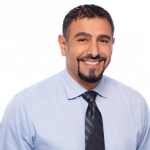 Ousama El-Hillal
, referred to as Dr. O by patients, staff and friends, is an Orthodontist and co-owner of iSmiles Orthodontics. iSmiles Orthododontics is leading provider of the Damon System and Invisalign in Irvine.