We love our patients.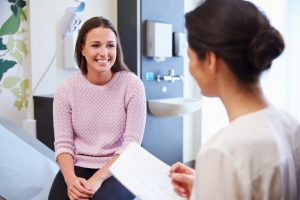 The iSmiles Orthodontics team is pleased to welcome you back as a patient. We work hard to earn the trust of all our patients and are thrilled you have chosen iSmiles for the next step in your orthodontic treatment. Most importantly, we look forward to help you reach your orthodontic goal – what we call "The Perfect Smile".
For your convenience, iSmiles offers our Patient Forms online – so you can update your information on your computer and simply print the form once completed, or pre-print the form and fill it out by hand.
Click here for your Children New Patient Form.
Click here for your Adult New Patient Form.
Please bring the completed form with you to your first visit, along with your driver's license and insurance cards.
If you prefer to complete the Patient Information Form at our office, please plan to arrive 30 minutes before your scheduled evaluation appointment.
iSmiles Patient/Partner Pledge.
Because we work so closely together, over an extended period of time, iSmiles Orthodontics takes pride in partnering with our patients to ensure the best possible outcome.
As your iSmiles partner, you can expect us to:
Help you verify and manage your health insurance requirements, so there is no confusion.
Provide the most advanced and proven treatment technologies, and a treatment plan that is tailored to your specific orthodontic needs.
Answer all of your questions, and make sure you completely understand each step of your treatment process.
Start your appointment on time and not keep you waiting
Follow-up after every appointment to see how you're feeling and ensure your questions or concerns are answered to your satisfaction.
Stay focused on your needs throughout the treatment process, to ensure the best possible outcome.
As our Patient/Partner, we expect you to:
Arrive at your iSmiles appointment on time and ready for treatment.
Keep us informed. We expect you to ask or tell us if you have any questions or concerns about your treatment.
Make sure you follow your home care plan, exactly as prescribed.
To keep up-to-date on payment schedules.
Follow the 24-hour rule. If you need to reschedule an appointment please give our office at least 24-hours' notice.
If you have any questions, concerns or suggestions, please call our Office Manager at (949) 38506814 or email office@ismilesorthodontics.com