What Different Colors Can You Have With Damon Braces?
In this edition of Friday Focus, Dr. O from iSmiles Orthodontics, your Orthodontist in Irvine, discusses the different colors and combinations you can have with Damon Braces.
Because the Damon® braces system is relatively new to orthodontic treatment technologies, there are a lot of myths out there – especially when it comes to adding colors. It has become one of our most frequently asked questions.
I have been working with the Damon system for almost 11 years and want to reassure you that you can add just about any color to your Damon braces.f
I understand many of the "non-Damon" practices out there say that if you choose Damon braces for your orthodontic treatment that color is not an option.
Well this is one myth I am going to dispel, today! Damon braces are a bit different from traditional metal braces near you in that the color, whatever color your heart desires, is simply placed underneath the arch wire. Through the years I have worked with thousands of patients and have had no problem adding the colors they want to make a statement.
There are always pros and cons to everything you choose. When it comes to Damon braces, the ability to add colors is a definite plus.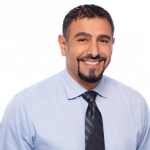 Ousama El-Hillal
, referred to as Dr. O by patients, staff and friends, is an Orthodontist and co-owner of iSmiles Orthodontics. iSmiles Orthododontics is leading provider of the Damon System and Invisalign in Irvine.