Does your child have a bite problem?
In this edition of Friday Focus, your Irvine orthodontist, Dr. O El-Hillal, will share a simple home exam that can determine whether your child has a bite problem.
Hello, my name is Dr. O. We will discuss a simple exam you can do to see if your child has misalignments in their bite.
Our office recommends children receive an orthodontic consultation by the time they are seven years of age.
We will examine the relationship between their teeth and jaws.
Do you notice an overbite, where their top teeth protrude further than their bottom teeth?
Do their bottom teeth protrude further than the front, causing an underbite?
Or does your child have a crossbite, where several of their upper teeth are misaligned on the side of their lower teeth?
These are easy evaluations to determine if your child's teeth and jaws are properly developing and if any orthodontic treatment is required.
The following test will help you determine how your child's teeth are developing:
They will use their fingers to pull their cheeks and bite down. This will allow you to see if there is enough space for their permanent teeth to emerge and if they properly fit together.
iSmiles Orthodontics is happy to offer a Complimentary Early Intervention Consultation for your child bi-annually after they turn seven to monitor your child's teeth.
We are very experienced working with children and pre-teens.
Cases of over-crowding or misaligned bites are obvious scenarios that require early intervention. However, sometimes, your child may have orthodontic issues that are not visible to the naked eye. Phase one of Early Intervention often begins when your child turns nine. We will recommend appliances to improve your child's bite and development to prevent orthodontic treatment in the future.
We invite you to call us at (949) 385-6814) to schedule your free Early Intervention Consultation for your child.
Hopefully, this answers your question. I invite you to join us next week for Friday Focus!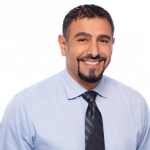 Ousama El-Hillal
, referred to as Dr. O by patients, staff and friends, is an Orthodontist and co-owner of iSmiles Orthodontics. iSmiles Orthododontics is leading provider of the Damon System and Invisalign in Irvine.