Get $100 for FREE with iSmiles Refer-a-Friend Program
Earn up to $100 with our New Referral Program!
We are excited to offer a $100 Gift Card for simply referring someone to receive the same amazing treatment you did at iSmiles Orthodontics!
So how does this program work?
Refer a friend or family member* to our office
You will receive a $25 Gift Card after your referral* visits us for their Complimentary Consultation (a $500 value)
We will send you an additional $75 Gift Card once your referral* begins treatment with us. Our team will send you $100 in Gift Cards for each referral who receives treatment at our office. It's our token of gratitude for trusting us with your friend or family member*!
We understand you wouldn't refer a family member or friend unless you are beyond satisfied with your orthodontic treatment and the care you received from our iSmiles Orthodontics team. Earning your trust and respect is very important to our team. Your referrals are the highest level of praise. There is no limit to the number of family members or friends* you can refer! As a new iSmiles Orthodontics patient, they will benefit from a complimentary consultation and the satisfaction of starting their journey to achieve a beautiful smile.
It's a win-win! You earn free money, and they receive a new, dazzling smile.
*Some exclusions apply. Please contact a team member for full details.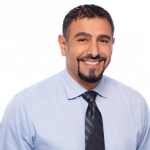 Ousama El-Hillal
, referred to as Dr. O by patients, staff and friends, is an Orthodontist and co-owner of iSmiles Orthodontics. iSmiles Orthododontics is leading provider of the Damon System and Invisalign in Irvine.