Introducing the iSmiles Orthodontics Friday Focus
We understand that choosing an orthodontist can be a challenging and very personal decision. We feel privileged that you are considering our iSmiles Orthodontics for yours or a family members orthodontic care.
Because orthodontics is a process that can take several months to years, we realize how extremely important it is to provide a high level of customer service. While you'll find that anyone can claim to offer stellar customer service, when you choose iSmiles Orthodontics, Your Irvine Orthodontist, you'll quickly realize that in our case it's actually true. From the first time that you call our office and speak to our welcoming receptionist, to your consultation with the orthodontist and throughout the treatment process, we're sure you'll agree that we are committed to providing a first-class customer service experience. You can also expect highly skilled orthodontic treatments.
Introducing the iSmiles Orthodontics Friday Focus
Important elements of our customer service efforts is communication and education which is why we're introducing this new concept as a way to reach out to our patients, providing education and expanding our reach. The Friday focus is the perfect way to provide direct education on orthodontics, oral health and other related issues that you may be curious about.
This week is just an introduction, but we're excited to start engaging with you, delivering the inside scoop on the Orthodontics process. The videos we have planned include how to brush with braces, what color your braces should be, how long treatment normally takes and other commonly asked questions like what happens during the initial consultation and to find out more about the exciting, innovative treatment solutions we use to create big, beautiful smiles. If you have any questions you'd like answered through these videos simply comment on the video and we'll be happy to answer them.
Thanks for stopping by and be sure to stay tuned for our second Friday focus that's coming out next week.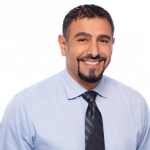 Ousama El-Hillal
, referred to as Dr. O by patients, staff and friends, is an Orthodontist and co-owner of iSmiles Orthodontics. iSmiles Orthododontics is leading provider of the Damon System and Invisalign in Irvine.