OUR IRVINE ORTHODONTICS OFFICE – HALLOWEEN 2015
Oh, you didn't know? We had the Star Wars crew invaded our Irvine Orthodontics office last year, including a very stern Princess Amidala, a Jedi, Princess Leia, two female Darth Vaders, and a fairly tall Yoda. We can't believe there wasn't a Darth Maul or Boba Fett. You see, our team loves Halloween and dressing up. We haven't decided on a theme for this year yet. If anyone has great ideas, please feel free to let us know!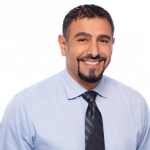 Ousama El-Hillal
, referred to as Dr. O by patients, staff and friends, is an Orthodontist and co-owner of iSmiles Orthodontics. iSmiles Orthododontics is leading provider of the Damon System and Invisalign in Irvine.