iSmiles welcomes new owner to the team.

Last month, iSmiles welcomed Dr. O El-Hillal (Dr. O to his patients) as a owner.
It's a great match when it comes to experience, professionalism, and the TLC approach iSmiles patients have enjoyed for so many years. One visit to this progressive office and you'll see why iSmiles captured a 2017 "People Love Us on Yelp" award, and why Dr. O has developed a significant internet following for his informative (and often funny) blogs and "Friday Focus" YouTube videos that answers the most frequently asked patient questions about orthodontic services.
Dr. O is a founding owner of E&S Orthodontics, a full-service orthodontic practice that has proudly been serving patients in the Phoenix/Peoria, Chandler, and Tolleson area since 2004. His love of travel and the outdoors brought him to California. He loves the Irvine area and everything it has to offer. Dr. O insists on reaching the next level of perfection, setting him apart from other professionals. He has been published in several professional journals and held numerous leadership roles, including Chief Resident during his training. From day one, Dr. O developed a clear vision to create an orthodontic practice based on the latest technology and research with a "no-extraction" treatment philosophy.
He earned his Bachelor's Degree from Franklin & Marshall College in Lancaster, PA, and his MBA, Master in Oral Biology, Doctor of Dental Medicine degree, and Orthodontic Speciality degree from the Maurice H. Kornberg School of Dentistry at Temple University. This prestigious university excels in dental education and patient care in Philadelphia.
He's adamant about staying up-to-date in terms of treatment technologies and research to become a leading provider of InvisalignTeen®️, Invisalign®️, and Damon®️ self-ligating braces.
Dr. O will be introducing the Damon system to Smiles' roster of treatments as an effective option for patients looking for an alternative to traditional braces. Instead of traditional brackets, Damon braces utilize a slide mechanism that moves naturally as the teeth realign. This allows Damon Braces to produce quicker results while being comfortable and more aesthetically pleasing. They also benefit patients with fewer in-office visits, less plaque accumulation, and less pressure on the teeth. Another plus – most dental insurance plans and FSA's can be allocated to treatment with Damon braces.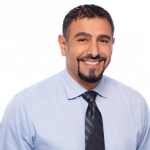 Ousama El-Hillal
, referred to as Dr. O by patients, staff and friends, is an Orthodontist and co-owner of iSmiles Orthodontics. iSmiles Orthododontics is leading provider of the Damon System and Invisalign in Irvine.