Prior To Orthodontic Treatment Should You Extract Wisdom Teeth?
iSmiles – Prior To Orthodontic Treatment Should You Extract Wisdom Teeth?
Welcome to today's Friday Focus. We're going to be answering the question "Prior To Orthodontic Treatment Should You Extract Wisdom Teeth?" While this a fairly common question, the answer varies depending on the circumstances. If there's enough room in the jaw for the wisdom teeth to emerge, and they're erupting in a good direction, having them extracted isn't always necessary. However, problematic wisdom teeth need to be removed and the sooner the better.
The factors that determine whether someone will need to have their wisdom teeth extracted before orthodontic treatment includes their age, the condition of the wisdom teeth and the recommendation of their orthodontist. At iSmiles Orthodontics, we recommend that dental visits start by the age of 7 and wisdom teeth haven't erupted at this point. Wisdom teeth don't typically become a concern until the ages of 16 or 17. It's about this time that we recommend that our patients consult with an oral surgeon to determine if their wisdom teeth should be extracted.
The main reasons to extract wisdom teeth are:
• They're impacted or stuck in the gums.
• To help avoid the risk of gum disease and tooth decay.
• Persistent infections caused by the teeth only partially erupting.
• Crowding caused by erupting wisdom teeth, a variant that works against braces.
• They can disrupt the effects of orthodontic treatment, impacting the alignment.
• The potential damage the erupting wisdom teeth can cause to healthy adjacent molars.
When in Doubt, Ask a Trusted Orthodontist
At iSmiles Orthodontics, not only can we determine if your child needs to have their wisdom teeth removed, we can give them a beautiful smile if they're ready for braces. Contact us today for a complimentary consultation.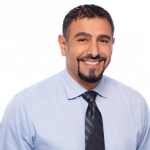 Ousama El-Hillal
, referred to as Dr. O by patients, staff and friends, is an Orthodontist and co-owner of iSmiles Orthodontics. iSmiles Orthododontics is leading provider of the Damon System and Invisalign in Irvine.