What Are The Side Effects Of Thumb Sucking?
The seemingly harmless habit of thumb sucking can change the child's facial structure for life if it's not addressed and result in dental, respiratory and speech problem. Our biggest goal from an orthodontic perspective is to have thumb sucking stopped before your child turns 6 and a half to 7 when their front teeth start to come in. In most cases, children will stop a thumb sucking habit by the time they reach the ages of 2 or 3.
Side Effects of Thumb Sucking
The side effects of thumb sucking include that the teeth won't come in properly, pushing and flaring the teeth outward. The habit can also lead to what's referred to as an open bite, when your top and bottom teeth don't come together, making it hard to tear food, etc. Something as simple as biting into a slice of pizza or a sandwich can be difficult with an open bite. This is probably the most significant side effect.
What Can be Done About Thumb Sucking?
If the thumb sucking habit ceases while the child is still growing, an open bite can self-correct, however, the help an orthodontist may be required to correct the position of the teeth and to align the jaws. If the open bite isn't addressed while the child is growing, jaw surgery may end up being necessary to correct the bite.
The best thing to do if thumb sucking is an issue is to take your child to an orthodontist to have them help your child break their thumb sucking habit.
If you're concerned about your child's thumb sucking, contact us today for a complimentary consultation. It's better to address the problem sooner rather than later.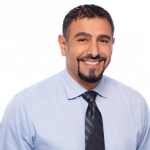 Ousama El-Hillal
, referred to as Dr. O by patients, staff and friends, is an Orthodontist and co-owner of iSmiles Orthodontics. iSmiles Orthododontics is leading provider of the Damon System and Invisalign in Irvine.