What Toothbrush Should You Use While Wearing Braces?
What Toothbrush Should You Use While in Orthodontic Treatment?
Cleaning your teeth and braces helps ensure successful orthodontic treatment, with the end result being a beautiful smile. The important thing to remember is that when you wear braces you're going to need to be diligent with good oral hygiene habits, brushing consistently and well. If you have braces, you've probably wondered what toothbrush you should use to get the best results – manual or electric. That's the question I'm going to be answering for this week's Friday Focus.
Which toothbrush is best – manual or electric, is a matter of personal preference. If you prefer using an electric toothbrush, there's no reason not to, even with braces. They're actually the toothbrushes we recommend using. That said, both manual and electric toothbrushes can be just as effective, especially if the right brushing techniques are followed. Another key factor is how often and how thoroughly you brush your teeth. The more comfortable you are with the toothbrush you use, the more likely it will be that you stick with proper oral hygiene.
The Best Way to Brush with Braces
Avoid brushing side to side across the braces, instead brushing at a 45-degree angle. Take your time, making sure to brush every tooth and along the gumline, removing food debris and plaque, avoiding tooth decay and other dental issues.
Choose a Soft Bristled Brush
Whether you're using a manual or electric toothbrush, choose one with soft bristles, the safest choice. Medium or hard bristled brushes can damage the gums, protective enamel and root surface.
To help get the brushing process down, I highly recommend watching some of the oral hygiene related videos we've previously posted, Click here to watch "Brushing Techniques with Braces".
Have additional questions about your orthodontic care? Let us know how we can help.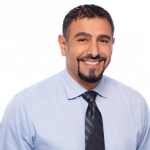 Ousama El-Hillal
, referred to as Dr. O by patients, staff and friends, is an Orthodontist and co-owner of iSmiles Orthodontics. iSmiles Orthododontics is leading provider of the Damon System and Invisalign in Irvine.