Why Use Digital Scanners In Orthodontic Treatment?
Welcome to Friday Focus. I'm Doctor "O" and today I wanted to let you know about a new, state of the art, impression system we're going to be adding to our office this year – digital impressions. When impressions of the teeth and mouth were needed in the past to design removable aligners or retainers, orthodontists had no choice but to create molds using hard trays, filled with a goopy, messy, putty-like substance. The process was one that patients dreaded, definitely not the most comfortable to sit through. On top of that, it was time consuming. Well, that's not the case anymore, thanks to our iTero digital scanner.
At iSmiles Orthodontics, we can now create impressions of the teeth and soft tissue digitally. Digital scanners make it possible for us to capture highly accurate 3D digital images which means our patients never need to sit through the uncomfortable, traditional impression process again. Using the digital impressions that the scanners produce, we can put together extremely precise, personalized treatment plans. We predominately use digital scanners on our Invisalign patients and for patients that require retainers once they've completed orthodontic treatment.
Here are a few of the primary benefits of using digital scanners in orthodontic treatment.
It gives orthodontists the ability to begin planning your treatment immediately.
It makes it possible for patients to start their treatment sooner because the digital images are uploaded instantly.
No more sitting through the messy impression process that often causes discomfort, anxiety and gagging.
It's fast, and highly accurate, delivering maximum results (a perfectly aligned, healthy beautiful smile). The quality of digital scanner results is far superior to conventional impressions, meaning better fitting aligners and retainers. We predominately use digital scanners for Invisalign treatments. So, if one of the reasons you've been putting off your decision to move forward with Invisalign is the potential of dealing with conventional impressions, that's not an issue any longer.
Feel free to call (949) 385-6814 if you have any questions about our new digital scanning abilities. If you or a loved one is in need of orthodontic treatment, contact us today to schedule a complimentary consultation (a $500 value).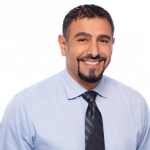 Ousama El-Hillal
, referred to as Dr. O by patients, staff and friends, is an Orthodontist and co-owner of iSmiles Orthodontics. iSmiles Orthododontics is leading provider of the Damon System and Invisalign in Irvine.