Why Should You Wear an Orthodontic Mouthguard?
Do you or your child take part in sports activities? Then it's important to note that mouthguards have been referred to as one of the most important parts of an athlete's uniform and have been shown to reduce injuries as much as helmets. The last thing anyone wants is to have their healthy smile seriously injured during sporting activities, especially since they can easily be prevented by wearing a mouthguard.
Wearing Braces Doesn't Mean You Can't Play Sports
Patients that wear braces can still take part in contact sports if they wear an orthodontic mouthguard. A high quality, well fitted mouthguard will help protect the mouth, gums, teeth and braces from serious trauma. Mouthguards can also greatly reduce the chances of having concussions.
As reported by the American Association of Orthodontics, mouthguards can make a major difference when it comes to preventing oral injuries. That's why here at iSmiles orthodontists we recommend wearing a mouthguard both during and after treatment. As you can imagine, a blow to the mouth while wearing braces can be extremely painful. Damage to braces can also lengthen treatment time and in some cases, lead to years of suffering and expensive dental treatment.
Orthodontic Mouthguard Wear Recommendations
The American Dental Association recommends the use of custom mouthguards in 27 different sports and exercise activities and the list continues to grow. A good rule of thumb to follow is that a mouthguard should be worn anytime there's a chance of facial injuries. We have a wide range of mouthguards for use in all sports (and other physical activities) including football, basketball, soccer, lacrosse, baseball, softball and more.
The Importance of Using Orthodintic Mouthguards
It's becoming more and more important to understand that, while in treatment, it's so important to use orthodontic mouthguards in place of a regular mouthguard to prevent damage to your braces. A professionally fitted orthdontic mouthguard will fit well and comfortably, will be tasteless and odorless, will be resilient, tear resistant, with sufficient thickness in the right places to effectively protect your mouth.
If you'd like to find out more about orthodontic mouthguards contact our office. Ready to become part of the iSmiles family? Contact us to schedule a consultation today.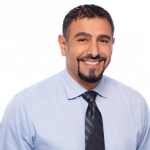 Ousama El-Hillal
, referred to as Dr. O by patients, staff and friends, is an Orthodontist and co-owner of iSmiles Orthodontics. iSmiles Orthododontics is leading provider of the Damon System and Invisalign in Irvine.