Why Do Some Orthodontists See Patients More Frequently?
In this edition of Friday Focus, Dr. O El-Hillal from iSmiles Orthodontics, your Irvine Orthodontist, discusses how orthodontists schedule follow-up appointments. .
Hello. My name is Dr. O and today we're going to talk about the two main reasons why different orthodontist prefer to see their patients in 4-week vs. 6-week interviews.
The first reason reflects the type of braces the orthodontist utilizes in the treatment plan. For example, traditional metal braces generally require every-4-week appointment intervals because the wires must be re-engaged by replacing the worn-out elastic bands. In addition, the wires must be examined and adjusted to ensure the teeth are being moved as planned.
Orthodontist who set up 6-week, 8-week or 10-week appointment intervals are generally using a treatment system that does not require elastic bands. They could be using a system where the wire is held in place with a different type of mechanism – usually a door – so the amount of time between visits can be increased.
Therefore, one of the main reasons why an orthodontist prefers 4-week intervals vs. 6-week intervals is directly related to the treatment systems used in his or her office.
The second reason, and I really hate to say this, often depends on the payment schedule your doctor has arranged with you. There are doctors who want to get paid every month and to ensure they get paid on a monthly basis they simply schedule patient visits every four weeks.
Other offices arrange monthly payment schedules but do not see their patients on the same interval. Instead they stretch out patient visits to 6- or 10-week intervals.
So you see, it really depends on how the orthodontist's office is organized and the types of treatment plans offered that influence appointment frequency.
These are the main reasons why patient appointment intervals vary from orthodontist to orthodontist.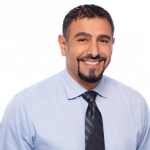 Ousama El-Hillal
, referred to as Dr. O by patients, staff and friends, is an Orthodontist and co-owner of iSmiles Orthodontics. iSmiles Orthododontics is leading provider of the Damon System and Invisalign in Irvine.