Why Should You Select Damon® Clear For Your Orthodontic Treatment?
In this edition of Friday Focus, Dr. O El-Hilla from iSmiles Orthodontics, your Orthodontist in Irvine, discusses the Damon Clear system and why he personally selected it for his own orthodontic treatment.
Hi. My name is Dr. O and I am here to talk about the aesthetic benefits of Clear Damon Braces.
When it came to my own orthodontic treatment, I chose Damon Clear. As you watch this video you can see I'm wearing braces – or maybe you can't see them at all. That's because Damon Clear Braces are virtually invisible.
Many people don't like the heavy metal look of traditional braces for their treatment, Damon Clear is an excellent aesthetic alternative. Even though the braces are difficult to detect, even when you are standing close to someone who is wearing them, they perform exactly the same way as traditional metal braces to create a wide, beautiful smile.
The other thing I find interesting about Damon Braces, from a geek point of view, is they incorporate a "door" mechanism that opens and closes to hold the arch wire in place. If you have a friend who chose traditional clear braces for their treatment, you know they have to wear clear, elastic rubber bands that hold the arch wire in place.
Damon Braces are tieless. They do not require elastic bands because the door mechanism not only holds the arch wire in place. . .it also doesn't stain.
The clear elastic bands tend to discolor over time and turn yellow, especially If you drink a lot of coffee or wine, eat mustard or spicy foods like curry. If you smoke – not that I'm advocating smoking – the same thing happens.
When you choose Damon Clear Braces you avoid all problems associated with discolored bands.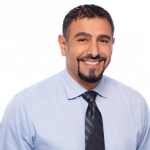 Ousama El-Hillal
, referred to as Dr. O by patients, staff and friends, is an Orthodontist and co-owner of iSmiles Orthodontics. iSmiles Orthododontics is leading provider of the Damon System and Invisalign in Irvine.