Why Do Orthodontic Brackets Break?
Welcome to the Friday Focus. My name is Doctor "O" from iSmiles Orthodontics, Your Irvine Orthodontist and today I'd like to focus on a question we often receive from patients who have recently started treatment.
The question is, "Why do orthodontic brackets break?"
Generally, we find that broken brackets occur after a patient has eaten something they shouldn't have eaten – hard, chewy or sticky foods.
While it's inconvenient for a bracket to break off because you'll need to come into the office to have it fixed, understand that it's not a major crisis. Your overall treatment time and results should not be affected by a broken bracket. That said, we do recommend that you call the office and speak to one of our friendly team members to schedule an appointment to have it fixed as soon as possible.
When we do start orthodontic treatment, part of the process is educating you regarding the kinds of food you should and shouldn't eat. But sometimes, patient forget or try to sneak in something tempting that can end up breaking brackets.
The best way to ensure that you don't need to come in for extra visits due to broken brackets is to keep away from hard and chewy foods. Being in braces myself, I know this can be difficult at times, but you'll have plenty of time to eat those kinds of foods once you've completed your treatment.
Foods to Avoid
Examples for food to avoid include hard rolls, bagels, gum, hard or chewy candy, apples, carrots, corn on the cob, etc. When you think about it, it makes sense.
Recommended Foods
While braces will limit some of the things you'll be able to eat, there are still plenty of healthy and delicious options that are allowed. Things like pasta, soft grains (bread, rice, etc.), softer fruits like grapes and bananas and yogurt are all considered safe.
On a personal note . . .
From personal experience, I know that, even though I shouldn't, I'm going to sneak a few almonds here and there because, well, I love almonds. I also know that if I eat the almonds in a certain way I'm going to break off all my brackets. So, I feel it's important to recommend that you be careful because when you bite down on hard foods and sheer of the brackets, they're not going to hold up and will come off.
I hope you enjoyed this week's Friday Focus. Again, just be careful and stay away from those hard, chewy, sticky foods. If you have additional questions, give us a call. We're here to help.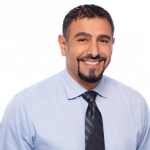 Ousama El-Hillal
, referred to as Dr. O by patients, staff and friends, is an Orthodontist and co-owner of iSmiles Orthodontics. iSmiles Orthododontics is leading provider of the Damon System and Invisalign in Irvine.